Chris Moneymaker
Chris Moneymaker (money800) Poker Profile
Chris Moneymaker is one of the best known poker players of all time because of a number of reasons. The most famous reason is how he won $2.5 million from starting with a $39 buy-in for a satellite tournament that would later give him full entry into the World Series of Poker $10,300 Texas holdem main event. He became the first world champion who qualified through an online tournament at PokerStars.com.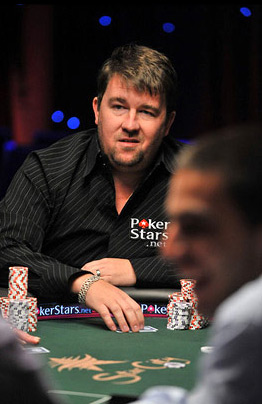 Personal life and interested facts about the Moneymaker name
It's even more amazing that Moneymaker is actually his real name, which was a supreme coincidence because he sure did make a lot of money and the prize that he won in the 2003 WSOP main event was the largest ever at the time. Many people believed the game was rigged or was some fake publicity stunt by Pokerstars by having Chris change his last name to Moneymaker, which was one of the easiest names to remember for a world poker champion. The truth is, it was purely coincidental and that was his real name for his entire life. His full name is Christopher Brian Moneymaker if you didn't know his middle name.
It turns out that his name was derived from the German name "Nurmacher", which is the same thing as Moneymaker. Basically, his ancestors and family used to make money in the form of gold and silver coins long ago and they just inherited the name. Chris is actually just an ordinary guy who grew up in Knoxville Tennessee and went to Farragut High. After graduating high school, he attended the University of Tennessee where he got a Masters degree in Accounting (ironically another money-related field) and later got a job as a comptroller while working part time at a restaurant.
Chris Moneymaker's new career in poker
It all started when he played poker online at PokerStars.com. Moneymaker decided to enter a $39 buy-on online poker tournament known as a satellite qualifier event. Basically this was a type of tournament where the winner would win an entry into the World Series of Poker main event, basically a $10,300 buy-in into a huge tournament. Indeed he won the satellite and gained free entry into the WSOP No Limit Holdem event. His only problem was getting enough money together to pay for the travel expenses. His dad Mike and his friend David Gamble helped put up some cash as long as Moneymaker gave them some of the winnings if he won.
During the first day of the tournament, he got to sit next to the ranks of Phil Ivey and Johnny Chan, both legends in the world of poker. Basically, he did not do too well and pretty much underestimated himself. The next day, he decided just to loosen up a bit and not get intimidated by the greats.
Moneymaker started off pretty much being unknown before gradually gaining the attention of a few of the pros including Lou Diamond, who described Moneymaker as being a "dark horse" that would eventually win the whole thing. It turns out that this was correct and Moneymaker made it to the final table and faced off in a heads up challenge against Sam Farha to become the winner of the $2.5 million prize.
There were a few notable events in Moneymaker's quest through the main event including a shootout between him and Russ "Dutch" Boyd. Moneymaker was dealt a pair of threes for his pocket cards and Boyd received KQ. The flop was dealt with 9-2-5 and then moneymaker decided to wager $100,000 worth of chips into the pot in a sort of semi-bluff. Dutch did a little bit of thinking and decided to call the bet and go all-in on top of it. Moneymaker decided that Dutch Boyd had high cards but he didn't have a pair, so Moneymaker called the bet and won the pot along with a huge boost in chip count.
Another great move was when he was dealt pocket eights and Humberto Brene had pocket aces. It was very lucky that Moneymaker caught another 8 later on in the hand to give him three of a kind against Humberto Brene's pair of aces.
The last round of the 2003 WSOP no limit holdem main event was also notable when Chris Moneymaker was heads up against Sam Farha. One of the big momentum changers was when Moneymaker bluffed on the river and went all in with just a king-high. Farha had a pair of nines, which would have won the game, but he folded instead. On the final hand, Moneymaker was dealt 5-4 and Fahra had J-10. Eventually, they went all in and the cards dealt to the table were J-5-4-8-5. Sam Fahra ended up with a pair of jacks and Chris Moneymaker ended with a full house, 5s full of 4s. This was the first live tournament he ever played in and he won.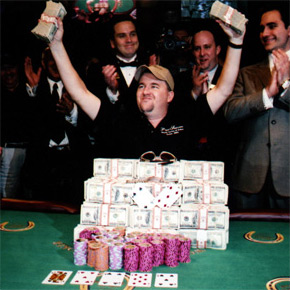 The "moneymaker effect" and post-tournament life
After he won, he quit his job and became a spokesman for Pokerstars.com and traveled around to play in other large tournaments. He even donated $25,000 towards medical research in the fight against cancer. Besides becoming an instant celebrity, a phenomenon was born and known as the Moneymaker Effect, which was the explosive interest in live poker and online poker that came from his winning. In fact, it was the "Moneymaker effect" that got me and my friends into playing Texas Holdem and tournament poker at PokerStars. Tthe average person saw Chris Moneymaker as an ordinary person who won millions of dollars from a cheap $39 online tournament and anyone could do this. This was the golden age boom in online poker and new players who got caught up in the excitement.
Moneymaker is still just a family man and respectful gentleman at the tables. Many players who have been around him say he is down-to-earth guy and shook hands with everyone who got knocked out of the tournament. He also plays online at PokerStars.com under the Money800 screen name and even chats with other players when they ask questions. Sometimes he has to turn the chat feature off as it starts interfering with the game, which is understandable.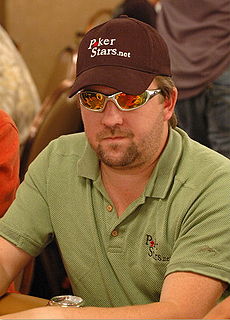 The famous 2003 tournament wasn't the last you would see of Chris Moneymaker. In fact, he participated and won money in all sorts of other tournaments including a second place finish with $200,000 at the Shooting Stars Event in the 2004 World Poker Tour. He also finished up in 6th place in another $10,300 buy-in at the World Champion of Online poker in 2008 and won a nice prize of $139,000. There were a number of other smaller prizes he won and his total winnings added up to be more than $3,000,000 as of 2010. This is just proof that Moneymaker has skills and that he wasn't just a fluke of luck like some people claim.