This is sort of old news but it is actually pretty interesting. If you didn't hear about it, 4 men ran into a major poker tournament with machine guns to hold up the place and steal the money. Some say they ran off with about $1.2 million worth of money laying around at the Grand Hyatt Hotel in Berlin, Germany. Some new updates say they may have only ran off with between $100,000 and $400,000 instead, which is still some serious cash.
Apparently, one suspect was arrested and then set free after lack of evidence against him. Interestingly enough, this same suspect may have been involved in another robbery in 2004 with a major casino heist. In some sense, this heist sounds like something that would happen in the movies like with Oceans 11 or something from the old western days!
Although, you can't blame the robbers since they probably saw all those bricks of $100 bills that you normally see in major poker tournaments! Here is one of those picture below: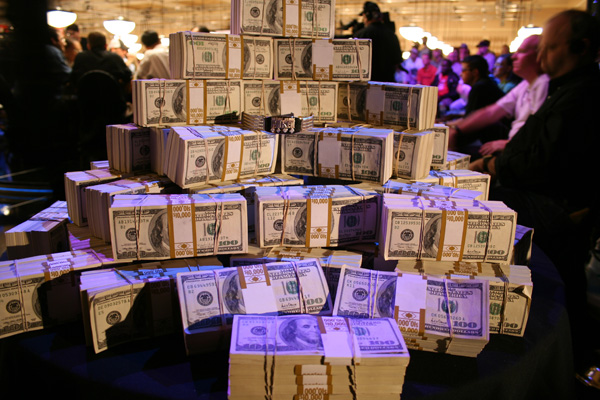 You can obviously see how tempting it would be for some of these guys to run off with just one of those bricks of $100 bills! 😉 The problem here is that the money is right there in cash. In other sports tournaments like the Super Bowl or the Powerball lottery, they just give out checks and the robbers wouldn't be able to do anything like that. But when it comes to poker, people want to see the hard cold cash and all the piles of money laying around, like people normally do when playing poker.
Even at the banks, they don't pile all this money out in the open. So in one way, they were just inviting a heist and it was actually an easy holdup to run in quickly and run out with the money. It makes one wonder if major poker tournaments or WSOP will be doing this tradition any longer, which would be sad because quite frankly, I think the big piles of money really adds to the tournaments. The World Series of Poker (WSOP) indicates that they will be beefing up their own security after this incident.